Birders from near and far continue to observe the Varied Thrush. Fernando Corrada got this shot on Sunday 1/22/12.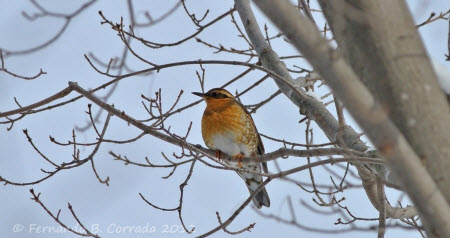 Varied Thrush at Mountain Valley Farm in Waitsfield
The Mad Birders are proud to have this Varied Thrush visiting the Mad River Valley this week in Waitsfield, Vermont. Mountain Valley Farm owners Gib and Sue Geiger are bird lovers and knew they had something unusual when they saw the vibrant orange on this bird on Saturday. They emailed photos to Pat and Nancy of the Mad Birders and to renowned bird expert Bryan Pfeiffer who confirmed that this was a Varied Thrush. The bird has been seen for the past three days at the Farm, located at 1719 Common Road in Waitsfield. The bird is on the shy side, and flies off when approached too closely. Sue, took this photo on January 16th. The Geigers have thoughtfully placed a cardboard box at the end of his driveway. On the box are written directions to let you know where to go to view the Thrush. Please take the time to read them. The Mad Birders and birders from all across Vermont and elsewhere are grateful to our wonderful neighbors Gib and Sue for sharing their avian guest with all of us. Thanks Gib and Sue!