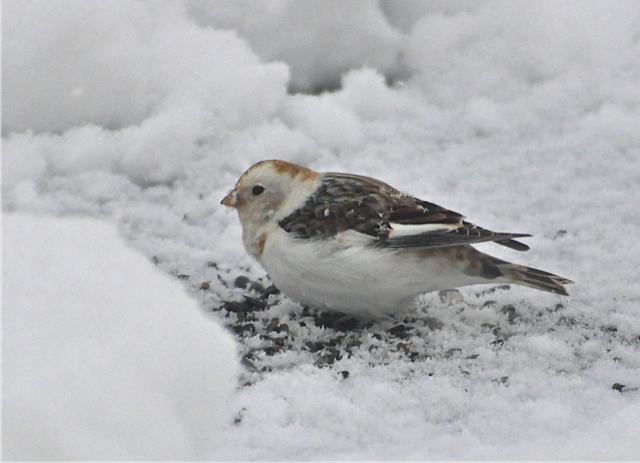 Six more inches of snow last night! It feels like we're living in a igloo.
This morning, the snow was so high on the ground around the feeders, that all the doves, cardinals, and other birds that wait on the ground for the chickadees to spill seed for them to pick up, were finding nothing. It was comical, but disconcerting, watching them try to figure out how to land on the feeders. So, I went out on the back deck with a scoop of seed and a shovel to clear a spot for some food that they could easily reach.
As I was shoveling, a small bird flew in front of me at eye level, and disappeared around the barn. All I caught was white, black, small — so I thought Chickadee. But something wasn't right. Was I seeing things, or was that bird too big, flying differently? And wasn't there a hint of brown? Oh well it was gone.
But, I decided to peek around the corner to see if the bird was still in sight. When I did, it erupted from the protected area in front of one of the garage doors, and quickly disappeared around the Cedars further up the drive. No ID, but again, it just didn't seem quite right for a Chickadee.
I went back to my work, and no sooner had I shaken the seed onto the deck than a Snow Bunting re-rounded the corner, fluttered near me, was startled by my presence and bolted toward the river. I ran inside to tell Pat, and together, we scouted the windows of the house looking for the bird.
Eventually, we gave up went back to the kitchen. I stepped to the sink and looked out the window. And there, enjoying the fresh seed on the deck, was the first Snow Bunting we've ever had in our yard.
The bird stayed for a good while and ate much seed. Then it left. What a late winter's morning treat! Great views. Good pictures. And elevated spirits on a "Gee who forgot to set Mother Nature's alarm for the Vernal Equinox" spring morning.