A few Mad Birders and friends decided to kick off the New Year with a BANG! Knowing that there were some really interesting birds nearby, we decided it might be fun to try to find them on the first day of 2014. So, at the crack of dawn that first frigid morning Patti Haynes, Pat Folsom and Scott Sainsbury were joined by Chip Darmstadt, Josh Lincoln, Zac Cota-Weaver and his girlfriend Samantha for a FIRST BIRDS adventure.
Our first target was the Northern Hawk Owl that has been hanging out near the intersection of Rt 100 and the south end of Gregg Hill Rd in Waterbury Center, VT since mid-December. Birders have been flocking in from all over the Northeast to catch a glimpse of this rare and irregular visitor from Canada. Arriving at our destination at 9 am, we met up with Josh Lincoln, who was waiting for us, and had the distant Hawk Owl within eyesight. We could see the bird well through scopes, but were provided with much better looks at this handsome creature when it decided to fly toward us and landed in a tree right on Rt 100 where we were standing.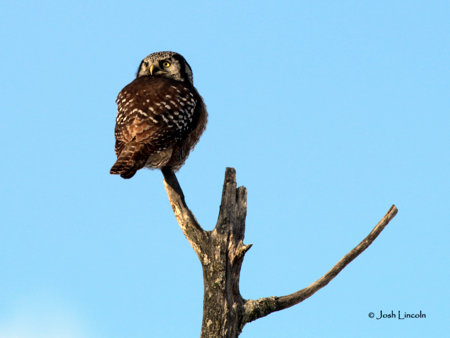 After good, long looks and numerous photos we knew it was time for the next bird on our list. The next stop was in Berlin, VT to look for the Snowy Owl that has been seen near the E. F. Knapp Airport. This winter there have been numerous reports of Snowy Owls in Vermont, especially in the Champlain Valley, but THIS Snowy was nearby. Seven pairs of eyes scoured the winter white, tundra-like landscape from the top of East View Lane. Chip Darmstadt, director of the North Branch Nature Center, scanned with his scope and fairly quickly located the Snowy! This owl was doing a wonderful job of blending in with its surroundings and was not easy to see. It was hunkered down at the end of a runway looking like a big plowed up chunk of icy snow. We were able to drive closer to get better views and photos of this gorgeous Arctic owl.  Many thanks to Josh Lincoln for the use of these wonderful photos!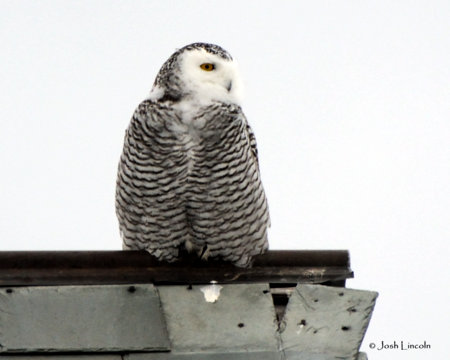 We did manage to look at other birds along the way that morning too, including Great Black-backed Gulls, a Northern Shrike and a Rough-Legged Hawk.  Altogether, we found 23 species on the first day of 2014. Everyone agreed that this was a great way to begin a New Year. In fact, everyone had so much fun that we might consider making FIRST BIRDS an annual Mad Birder event, but this first adventure will be difficult to beat!