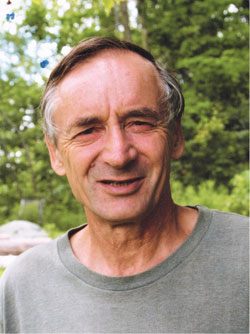 The Mad Birders are very pleased to invite the Mad River Valley community to join us for a talk by UVM Biology Professor Emeritus and renowned author Bernd Heinrich.  Professor Heinrich will speak at the Warren Library on Saturday, June 11 at 4 PM.  The title of the program is "Bernd on Birds".
Author of over fifteen books on diverse subjects including bird behavior; Mind of the Raven, The Geese of Beaver Bog, One Man's Owl; and long distance running: Why We Run and Racing the Antelope: What Animals Can Teach Us about Running and Life; Professor Heinrich has made and continues to make major contributions to our understanding of biology and natural systems.
Plainfield, Vermont film maker Jan Cannon recently completed a delightful documentary about Professor Heinrich entitled:  An Uncommon Curiosity, which premiered this past March at the Green Mountain Film Festival in Montpelier.   This talk is free and open to the public.  Refreshments will be served. We hope to see you there.
The Warren Library is in the Warren Town Hall, on 413 Main Street in Warren, Vermont.
For more detail email info@madbirders.org